521-B Spherical Mount
SKU
521-B
Estimated lead time:
30 days
Overview
Ships in 2 Weeks
For alignment telescopes and targets
Mounting flexibility is what you get with the 521-B spherical mount. It is compatible with any 2¼" alignment telescope or collimator, allowing you to position your telescope in the many orientations your application may require. The spherical mount also functions as a target holder for alignments requiring precision target fixtures. It has three radial setscrews at approximately 120 degree intervals, as well as three "axial" setscrews in a line along the length of the sphere. This allows for accurate and flexible target positioning. Often used with our cup mount 560-2. Conforms to all A.I.A. standards. The 2022 is classified as National Stock Number (NSN) 4920-01-013-0448.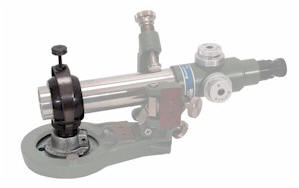 Although it may be used in many different mounting configurations, the 521-B Spherical Mount at left is shown holding a 2022 Alignment Telescope in a 5170 base. The highlighted portion shows a 521-B Spherical Mount, a 565 Spring Clamp, and a 560-2 Adjustable Cup Mount.
May Be Used With
560-2 Cup Mount with 565 Spring Clamp
705, 705-1, 707 family, 714, and 6130 disk targets
5150 and 5170 Alignment Telescope Bases
5180 Alignment Telescope Base (discontinued)
Specifications

| | |
| --- | --- |
| Concentricity of I.D. to O.D. | 0.0005" (0.013 mm) TIR maximum. Distance from center of sphere to squared face: 1.000" +0.005" -0.000" (25.4 mm, +0.127 mm -0.000 mm) |
| Finish | Black Oxide |
| Inside diameter | 2.2500" +0.0005" -0.0000 (57.2 mm, +0.013 mm -0.000) |
| Material | Heat-treated Steel |
| Outside Diameter | 3.5000" +0.0005", -0.0000 (88.9 mm, +0.013 mm -0.000) |
| Weight, Product (Approx.) lb | 3 |
| Weight, Product (Approx.) kg | 1.4 |
| Weight, Shipping (Approx.) lb | 4 |
| Weight, Shipping (Approx.) kg | 1.8 |