Repair & Calibration
Repair and Calibration for Optical Tooling and more…
Use our Online Calibration & Repair request form (to return an instrument for calibration or repair)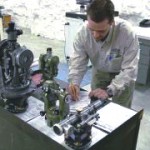 Brunson Instrument offers calibration services for optical measurement and alignment equipment, including optical tooling (all types and brands), theodolites, automatic levels, and more. Our long history working with precision instrumentation has given us some unique repair and calibration capabilities. Our competent staff has experience working with everything from builder's levels to theodolites, and from automatic levels to optical tooling. Our services are offered complete with NIST traceable certifications. Our clients include U.S. and international military units, defense and aerospace manufacturers, research and calibration laboratories, and civil and construction engineering firms. These clients understand that periodic equipment calibration is critical for maintaining and verifying equipment accuracy.
Brunson Offers…


• Quick instrument turnaround to meet demanding schedules
• NIST traceable certification
• Compliance with ANSI/NCLS Z 540.3, and quality management system ISO 9001:2015

Every Calibration Receives…


• Minor adjustment as needed
• Calibration sticker on the instrument
• Calibration report with "before" and "after" values
• Calibration certificate
• Quick estimates on necessary repairs discovered during calibration
• Calibration reminder service
Brunson has been continuously operating for over 80 years, and offers experience and professionalism you can rely on. We're known and respected in the field of industrial metrology and can repair and calibrate equipment from just about any manufacturer. You can trust us with your repair and calibration requirements!
How often should I calibrate?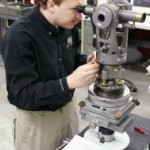 Calibration requirements are very dependent upon the particular instrument that you are dealing with. Different manufacturers have different recommendations, although many suggest an annual calibration cycle. That's what we recommend for our own optical tooling products. However, certain circumstances can dictate that a calibration be performed more often than that – things like physical abuse, rapid and extreme temperature changes, mandatory calibration cycles at your company by virtue of your own quality control or ISO programs, or even the occasional unauthorized tinkering can indicate that a calibration "check up" may be warranted. That's why a calibration sticker is always a part of our service. You can easily check on each instrument to see when the last calibration was performed, and when the next one is due.