Optical Tooling Calibration & Adjustment
Benefits Of Understanding Calibration & Adjustment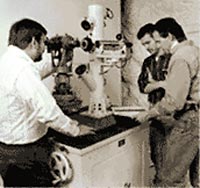 Is my instrument calibrated? That's the question every end user asks as they make critical path decisions based on their measured data. Our calibration course not only answers this question, but provides technicians with the skills needed to certify those instruments – an important consideration in today's quality minded business environment. Minimize turnaround times and the expenses that go with calibration outsourcing. Qualify the equipment in a certified lab or right on the job site. Troubleshoot instrument questions immediately to determine if project discrepancies are instrument- or hardware-related.
Your knowledge of instrument calibrations will be invaluable to identify measurement system errors, saving time and uncertainty. And, when a calibration error is found, you will know what to do to return the instrument to manufacturer's specifications as quickly as possible.
Learning Objectives
Understand calibration stand geometry. Setup and certify an instrument calibration stand. Certify optical test instruments on a test stand. Know optical tooling instrument relationships and the hierarchy of adjustments. Define and work with optical tooling accuracy in both angular and linear terms. Fully understand precision measurement techniques. Develop the skill to make fine adjustments and calibrate instruments for N.I.S.T. certification. Learn how to document worksheets to clearly communicate as-found vs. calibrated conditions.
Course Outline
Calibration Stands
Hardware design and use, optical reference scopes, proper set-up, N.I.S.T. traceability
Optical Tooling Instruments
Linescopes, precision sight levels, jig transits
Principles Of Optics And Light
Refraction, auto-reflection, auto-collimation, collimation, parallax
Other Optical Instruments
Pre-arranged with student
Function Of Optical Devices
Lens, wedge
Instrument Calibrations
Instrument specifications, calibration procedures
Basic Instrument Construction
Ocular system, objective system, focusing method
Instrument Relationships
Optical-to-mechanical, optical-to-optical, mechanical-to-mechanical, hands-on adjustment, required tools
Optical Tooling Accuracy
Definition, angular-to-linear conversion, instrument accuracies
 
Who Should Attend The 32-Hour Calibration & Adjustment Course?
The 32-Hour Optical Instrument Calibration & Adjustment Course is designed for people who:
Supervise or perform calibration and adjustment of optical instruments, and/or maintain optical calibration stands.
Document calibration procedures for optical instruments.
Require N.I.S.T. certification and Mil Std 45662 for optical instruments.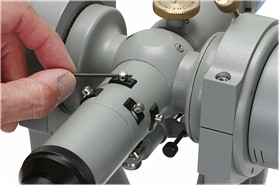 Course content is appropriate for quality assurance engineers, calibration lab supervisors and technicians, maintenance and field service technicians, and others who rely on proper optical instrument calibration. The 32-hour calibration course focuses exclusively on calibration and adjustment of optical instruments. Several topics from the Theory and Applications course are discussed briefly as context for the 32-hour course. Therefore, while not mandatory, we recommend students who enroll in the 32-hour course have previous optical instrument experience or have completed the Optical Tooling Theory & Applications Course.
Calibration & Adjustment Course Format
As with all Brunson Instrument training classes, the hands-on approach is taken, allowing students to spend almost the entire time adjusting and testing a variety of instruments on state-of-the-art calibration test stands. Students are allowed and encouraged to bring their own instruments (Brunson or K+E/Cubic Precision) to gain the specific experience they need.