Big Parts, Big Headaches?
The problem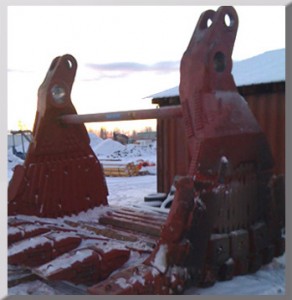 One of the most common yet challenging set-ups in field machining is boring straight holes over long lengths, perhaps similar to the configuration to the right. It's a common situation with today's large equipment. Traditional alignment practices require long, heavy boring bars that sag or make-shift fabrications to stage optical devices for aligning the boring bar bearings. Neither method is timely, safe, or effective.
The solution
Together with engineers from Climax Portable Machine Tools, Inc.© Brunson has created a system that will deliver precision results in the field safely and quickly every time. The Climax 2.25" spherical bearings can be aligned precisely over distances up to 50 feet with an easy-to-use system that fits in a small carrying case. No more long, heavy bars; no more instrument staging logistics.
The precision Brunson alignment telescope slides into to an adjustable fixture that clamps to Climax 2.25" spherical bearings on one side of the equipment to be bored. Specially designed open-wire targets mount in bearings on both sides, and the telescope is used to establish a perfect line-of-sight axis to which the bearings can be adjusted. Within minutes the bearings can be accurately aligned and boring can get underway.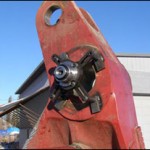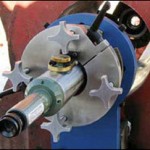 Machining bores in a field setting like the ones shown above and to the left can be dangerous and time consuming when workers have to transport and set up a long bar. Long bars can sag in the middle making it difficult to achieve proper alignment.
The 410-2/410-3 Boring Bar Alignment Kit is small, easy to carry, and simple enough for one person to operate. It is designed to work with the Climax Portable Machine Tools, Inc.© BB5000 Boring Machine but will work with any 2.25" bearings.
Boring Bar Alignment Kit Components:

16153 Telescope adjusting fixture
16156 Open wire ("see-through") target, fits in 2.250" bore
31032 Weather-proof case with custom fitted foam insert
Alignment System User Guide