On-Site Services
Have Metrology, Will Travel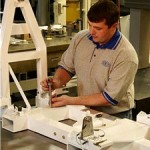 Our field service engineers are ready and willing to help solve your specific problems – on site at your facility. Not only has our group done work in every corner of the United States, we've sent them to every corner of the globe as well. Places like Germany, Singapore, Sweden, Israel, India, Japan – and lots of others. All in pursuit of helping our customers with their measurement and alignment challenges.
Our experience is yours for the asking
Our field service group has come across just about every challenge at one time or another. For example, they've been involved with fixture assembly and certification, machine tool alignments and machine performance evaluation, first article (and ongoing) inspection, equipment installation, and machinery troubleshooting. They've also helped streamline and automate our customers' metrology procedures, as well as helped them to specify their own metrology systems.
Our group has been on the inside at automotive assembly plants, national laboratories, power generation facilities, aerospace & aircraft plants, rocket assembly operations, heavy equipment manufacturing and service facilities, and governmental agencies such as USGS and NIST. They've been on-site at shipyards (above and below the waterline), optics labs, and military installations working with calibration labs, combat vehicles, and launch systems. They've been in cleanrooms, cement plants, dams, and even the gear box of a drawbridge. And of course, all types of rolling mills involving paper, plastics, printing, film, steel, and metal forming operations.
As you can tell, over the years we've had the opportunity to work with just about everyone and everything, from production managers who are under pressure to get things moving, to physicists and rocket scientists who live on the outer edges. All of this experience is yours for the asking. Our company can bring the many lessons we have learned over the years to bear on your particular problems and challenges.
Our toolbox is at your disposal
While experience and a clear understanding of metrology is definitely one of our most effective tools, our guys are quite handy with a toolbox full of impressive hardware. The list includes optical instruments such as jig transits, precision levels, alignment telescopes, and all the necessary accessories which are required for the pursuit of the elusive one-thousandth of an inch.
Why call us?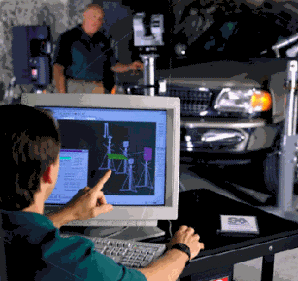 Our clientele call on us for a variety of reasons. Sometimes they lack personnel who have the skills required to implement a metrology solution, or the personnel they do have are committed to other projects. Sometimes they lack the proper instrumentation. Sometimes it's a non-recurring need and there is no reason to invest in the equipment or workforce to handle the challenge. Other times, capital budget limitations prevent such investment. And sometimes, well, they're just not sure how to solve the problem. Since metrology is usually not their core business, they often wish to outsource this function to folks who do it full-time. That's where we come in.
We can help if you need to:
improve the efficiency and/or throughput of your equipment,
reduce required maintenance and increasing MTBF,
analyze mechanical reasons for component failures,
know whether something was built the way that it was designed,
know how something was built if you don't have the blueprints, or
have a turn-key solution in any aspect of industrial metrology: system design, testing, automation, integration, training, or support.
Check it out
Not sure? Give us a call, we love to talk metrology. Get one of our application engineers on the phone and describe your situation. We'll tell you what we think. If you like what you hear, we'll arrange to pay a visit.
Or if this sounds like what you need, our practical and results-oriented engineers will respond night or day, rain or shine, and with no notice – they do understand the need to minimize downtime. They travel anywhere anytime.
Whether the challenge is measurement or alignment, we have the technical expertise and the equipment – from conventional optical tooling to the latest laser technology and metrology software – to get your job done in a timely manner.