8665 Fixed Scale Holders
SKU
8665 Fixed Scale Holders
Overview
Ships in 2 Weeks
Fits our Invar System
The
8665-G1, -G2 Fixed Scale Holders
are made to work with our Invar System, providing a mount for optical tooling scales or calibration targets on scale material (like our 6000-CE). These scale holders are referred to as "fixed" because they do not rotate axially like our 8665-G3, -G4 Rotating Scale Holders do.
The 8665 scale holders incorporate our "squeeze" lock scale holder clamp. This improved scale mounting clamp has a movable jaw which moves laterally from the side to firmly clamp the scale in place. The scale holder will work with all of our old and new style scales, as well as all older Cubic Precision (K+E) scales.
The 8665 Fixed Scale holder comes in both English and metric units - see the table below for the effective lengths of each. Order the desired item using the specified part number.
Be sure and read about our other invar system components.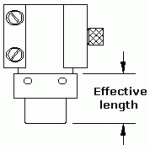 | | |
| --- | --- |
| Model | Effective Length* |
| 8665-G1 | 1" ±0.0003" |
| 8665-G2 | 25 mm ±0.008 mm |
*Effective Length is the distance from the bottom interface surface of the scale holder, which mates with the end of the Invar Tubing, to the top interface surface, on which rests the bottom of the scale.
May Be Used With
Any Invar System tubing
Any 1" wide Brunson or Cubic Precision scale (except 40" or 1000 mm)
Specifications

| | |
| --- | --- |
| Finish | Black Anodize, Stainless Steel |
| Material | Stainless Steel, Aluminum |
| Thread | 3/8"-24 |