1.5THS Series Corner Adapter
Backed into a corner?
The 1.5THS magnetic adapter provides an SMR nest which fits into any corner and puts a 1.5" diameter SMR exactly 0.800" away from the rising surface, within ±0.0005". It also holds the centerpoint of the SMR 1.000" (or 25 mm for the metric version) ±0.0005" above the base surface. A chamfer on the bottom side of this adapter provides a relief for any fillets or various strange things happening at the junction between the surfaces of the object being measured. The SMR seats on a 3-point conical land. An optical alley allows the SMR to be rotated down further for a lower shooting angle. Use the table below to find the item number for the desired target offset.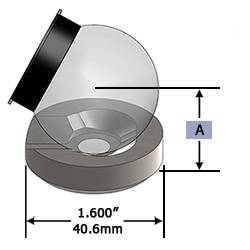 | | | |
| --- | --- | --- |
| Model | Offset "A" | Tolerance |
| 1.5THS-1 | 1.000" | ±0.0005" |
| 1.5THS-25MM | 25 mm | ±0.013 mm |
May Be Used With
Any 1.5" diameter SMR
Specifications

| | |
| --- | --- |
| Diameter in | 1.6" |
| Diameter mm | 40.6 mm |
| Fits hole sizes | 0.100" - 0.625" (2.5 mm - 16 mm) |
| Hardness | HRC 42-45 |
| Material | Stainless Steel |
| Offset Tolerance | ±0.0005" (±0.013 mm) |
| Target Centering Tolerance | ±0.0005" (±0.013 mm) |