1.5LK-P Basic Lanyard Kit
SKU
1.5LK-P
Estimated lead time:
7 days
Protect your SMR investment
The 
1.5LK-P
 Basic Lanyard Kit helps to protect your SMRs from the undesirable consequences of high-speed descents caused by gravity. The kit gives you the ability to secure the SMR to your wrist as you work. A small gauge, jacketed wire cable provides ample strength and security. The cable and other components of the kit are outfitted with quick release fittings. Two SMR collars are provided; one each for PLX and ProSystems SMRs. Similar kit 
1.5LK-F
 provides not only wrist strap protection but the ability to secure the SMR to various target holder nests as well.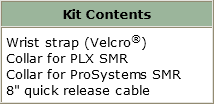 May Be Used With
1.5" PLX or ProSystems SMR