562-A Magnetic Scale Holder
SKU
562-A
Estimated lead time:
21 days
Overview
Ships in 2 Weeks
562-A Magnetic Scale Holder
For scales up to 20" or 500mm long
The 562-A employs a high energy Neodymium magnet with approximately 15 pounds of pull to hold a scale firmly against any ferrous material, regardless of surface orientation. That means you can orient your scales pointing upward, downward, or sideways, should the situation call for it. Plus, a new design allows placement on rolls from 1.5" to 12.5" in diameter - both sides have angled cutouts. The magnet is strong enough to hold a scale horizontally on a ferrous roll.
The edges of the scale holder are precisely ground to 90° in order to assure that the scale is held perpendicular to the surface. The stainless steel magnet body won't corrode in harsh environments. The scale is captured between two parallel jaws. A thumbscrew moves one of the jaws, which squeezes the scale on its edges and holds it firmly in place. The jaw edges themselves are beveled, causing the back of the scale to be firmly seated against the scale holder as the jaws close. The 562-A will hold any of our currently-offered optical tooling scales up to and including the 20" size, as well as our older type scales (which were fabricated from a thicker material).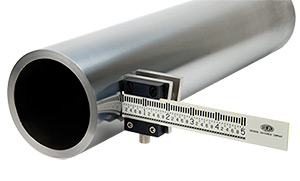 Use the 562-A magnetic scale holder to secure our 3", 5", 10", 20", 80mm, 130mm, 250mm, or 500mm scales in any orientation on a ferrous surface.
May Be Used With
Any of our optical tooling scales up to and including our 20" or 500mm size
To hold our 40" or 1000mm scales, please see model 562-41.
Specifications
Force of magnet: Approx. 15 lbs. (6.8 kg)
Maximum working temperature: 170°F (76°C)
Angled base cutouts: One side is 140°, the other is 165°
Approx. weight:
Unit, 1 lb. (0.45kg)
Shipping, 2 lbs. (0.9 kg)
Documents