740 Series Floor Target Holders
Overview
Ships in 2 Weeks
For permanent reference target mounts
The 740-A Floor Target Holder provides a permanent mount for optical targets, and may be grouted into a floor or other surface. Great for offset centerlines or holding other reference lines that must be used for alignment again and again. The ¼" target mount is fully adjustable in the X-Y plane using three socket head set screws which surround the target (design sketch below). A threaded cap with large screwdriver slot protects the target mount from harm while not being used. Milled slots on the side of the holder body give extra grip and help prevent rotation once grouted in place. Three threaded holes on the top surface of the holder body (just under the cap) allow the use of our mounting/leveling fixture for perfect placement while grouting.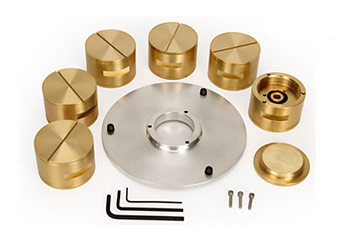 Our 740-AK is a kit of six 740-A floor target holders, with the mounting/leveling fixture.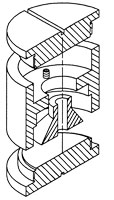 The target mount is shifted in two directions using three set screws surrounding its beveled edge.
May Be Used With
Any of our plug targets
Any target having a ¼" shank
Specifications

| | |
| --- | --- |
| Material | Brass |
| Target Holder Body | 1-7/8″ dia. x 1-5/16" high (47.6 mm dia. x 33.3 mm high) |
| Target Mount | 1/4″ |
| Weight, Product (Approx.) lb | 1 (Kit: 7 lbs) |
| Weight, Product (Approx.) kg | 0.5 (Kit: 3.2 kg) |