272 Series Multiple Target Collimators
Overview
Ships in 4 Weeks
The ultimate test collimator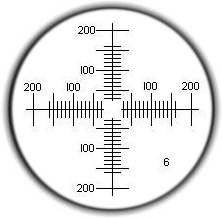 The 272-15 is a multiple purpose test collimator, specifically designed for use in collimating test stands and instrument adjustment applications. Use it to test the straightness of the line of sight of your optical instruments or as a general purpose infinity collimator. It has eight filar/bi-filar targets placed at various optically-simulated distances. Each target contains a label identifying its "distance" along the optical path. This allows you to test and calculate the deviation of any optical instrument's line of sight from a perfectly straight line. A special objective system assures high target definition and optical clarity. Each target is adjustable and may be centered on the mechanical axis of the collimator if desired. Targets are illuminated using the low-voltage light source (included) for backlighting. The 272-15 may be mounted in any V-block or wye-type base such as our 88-6 or 89. Plastic instrument case included. The 272-15 is classified as National Stock Number (NSN) 6650-01-245-7642.
Micrometer calibration version available.
Also available is the
272-MC
, identical to the
272-15
except that a special target with a graduated pattern (shown right) is installed at the 6 foot target location. This pattern is used to calibrate many optical micrometers such as our
own
190
or
160
.
Specifications

| | |
| --- | --- |
| Barrel Diameter | 2.4994" - 2.4997" |
| Barrel Length | 18" (457 mm) |
| Barrel Material | Hardened, stainless steel barrel |
| Case | Plastic with foam cushions |
| Targets | Filar/bi-filar pattern, with approximate distance settings of 2, 4, 6, 16, 25, 50, and 75 feet as well as infinity (0.6m, 1.2m, 1.8m, 4.9m, 7.6m, 15.2m, 22.9m, and infinity) |
| Weight, Product (Approx.) lb | 24 |
| Weight, Product (Approx.) kg | 10.9 |
| Weight, Product & Case (Approx.) lb | 30 |
| Weight, Product & Case (Approx.) kg | 13.6 |
| Weight, Shipping (Approx.) lb | 32 |
| Weight, Shipping (Approx.) kg | 14.5 |