1.5TH-M Various Shank Sizes
For a more secure hold
The 1.5TH-M Series magnetic adapters provide all of the features of our 1.5TH Series, with the addition of three magnets on the bottom surface of the adapter. These magnets provide a holding force if the adapter is placed in a hole in a ferrous material. The SMR seats on a 3-point conical land and is held in place by a magnet. An optical alley allows the SMR to be rotated down for a lower shooting angle. Various diameters and offsets are available - see tables below to construct the part number for the item you want.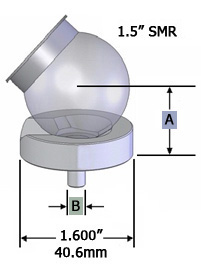 Part Number Construction: 1.5TH-M-A-B.
Choose an "A" value, and pair with desired "B" value to create the item number for the product you want.
| | |
| --- | --- |
| Offset | Value "A" |
| 1.000" | 1 |
| 25 mm | 25MM |
| | | | |
| --- | --- | --- | --- |
| Shank Diameter | Value "B" | Shank Diameter | Value "B" |
| 0.100" | .1 | 4 mm | 4MM |
| 1/8" | .125 | 5 mm | 5MM |
| 3/16" | .1875 | 6 mm | 6MM |
| 1/4" | .25 | 7 mm | 7MM |
| 5/16" | .3125 | 8 mm | 8MM |
| 3/8" | .375 | 9 mm | 9MM |
| 7/16" | .4375 | 10 mm | 10MM |
| 1/2" | .5 | 11 mm | 11MM |
| 9/16" | .5625 | 12 mm | 12MM |
| 5/8" | .625 | 13 mm | 13MM |
| 3/4" | .75 | 14 mm | 14MM |
| 7/8" | .875 | 15 mm | 15MM |
| 1" | 1 | | |
May Be Used With
Any 1.5" diameter SMR 
Specifications

| | |
| --- | --- |
| Diameter in | 1.6" |
| Diameter mm | 40.6 mm |
| Hardness | HRC 42-45 |
| Material | Stainless Steel |
| Offset Tolerance | ±0.0005" (±0.013 mm) |
| Shank Diameter Tolerance | -0.0001" to -0.0005" (-0.003 mm to -0.013 mm) |
| Target Centering Tolerance | ±0.0005" (±0.013 mm) |