1.5THR Reference Target Mounts
SKU
1.5THR
Estimated lead time:
14 days
For permanently mounted reference systems
Are you building or adding to a permanently mounted reference system? The 
1.5THR 
is made exactly for that purpose - establishing permanent target points on jigs, fixtures, tools, and machinery. Use 1/4" bolts through the two counterbored holes in the base to provide secure mounting. Then, two other 15/64th holes act as drill guides for placement of dowels. Once the 1.5THR is bolted down, use a 15/64ths drill through these guide holes into the substrate, ream to 1/4", and insert dowels for a permanent fix on the target's position.
A lid is included to keep out dust and dirt when not in use, held in place by two up-facing magnets on the top face of the nest. The lid overhangs the base slightly to aid in removal.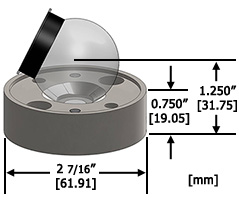 May Be Used With
Any 1.5" diameter SMR
Specifications

| | |
| --- | --- |
| Doweling holes | 0.235" (5.97 mm) dia. through, on 1.750" (44.45 mm) centers |
| Hardness | HRC 42-45 |
| Lid Diameter | 2.5" (63.5 mm) |
| Material | Stainless Steel |
| Mounting Holes | 0.266" (6.76 mm) diameter, counterbored to 0.438" (11.13 mm) dia., 0.250" (6.35 mm) deep, on 1.750" (44.45 mm) centers |