We rent metrology products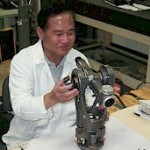 Do you need something in a hurry? Let us help. Dealing with a constrained capital budget? We'll work with you. Maybe you'd like to spend some time working with an instrument before you commit to a purchase. We get it. Issues like these can often be resolved by renting.
If renting sounds like the right answer for you, then Brunson is ready to help. We will make arrangements for you to rent equipment for any length of time--from one day to as long as you'd like. Not sure how long you need a given item? No problem. There is no need to specify this up front.
Our fleet includes the popular items in our catalog. Give us a call to check availability. Usually we can ship rental items within 24 hours. Additional charges may apply. And what about quality? Renting from Brunson is the only way to assure that your product is as good as new and complete with full calibration documentation.
We maintain a strict calibration schedule with our fleet and each instrument goes through a rigorous calibration cycle and functional review before it ships to you.
Rent to buy. If you decide to buy the item(s) you're renting, a portion of the daily rental fee already paid applies to the purchase price. Into reading the fine print? Download our rental agreement and have a look.