Stasis - Scanning Instrument Positioner
Scanning Instrument Positioner
Meet STASIS®, Brunson's agile, scanning-instrument positioner. It's a game-changer.
NO LOCKS OR CLAMPS
Typical industry stands require mounting your scanner in a fixed position. You take a shot, now you need to get the next shot. You release the locks. Move the stand. Reset the locks. Make four or five adjustments to various clamps and arms to reposition your scanner.
At its quickest, this complex process takes 90 seconds to put you in position for the next shot.
With STASIS, in that same time you could have already taken three shots, or more. Without moving the base.
AGILITY
STASIS is the only gimbal-style instrument mount that allows you to directly reposition your scanner point-to-point, adjusting the roll, pitch and yaw of your shot, within a 10 ft. horizontal range and a maximum 8 ft. height
Again: without moving the base.
Skeptical? We understand. Watch the video above.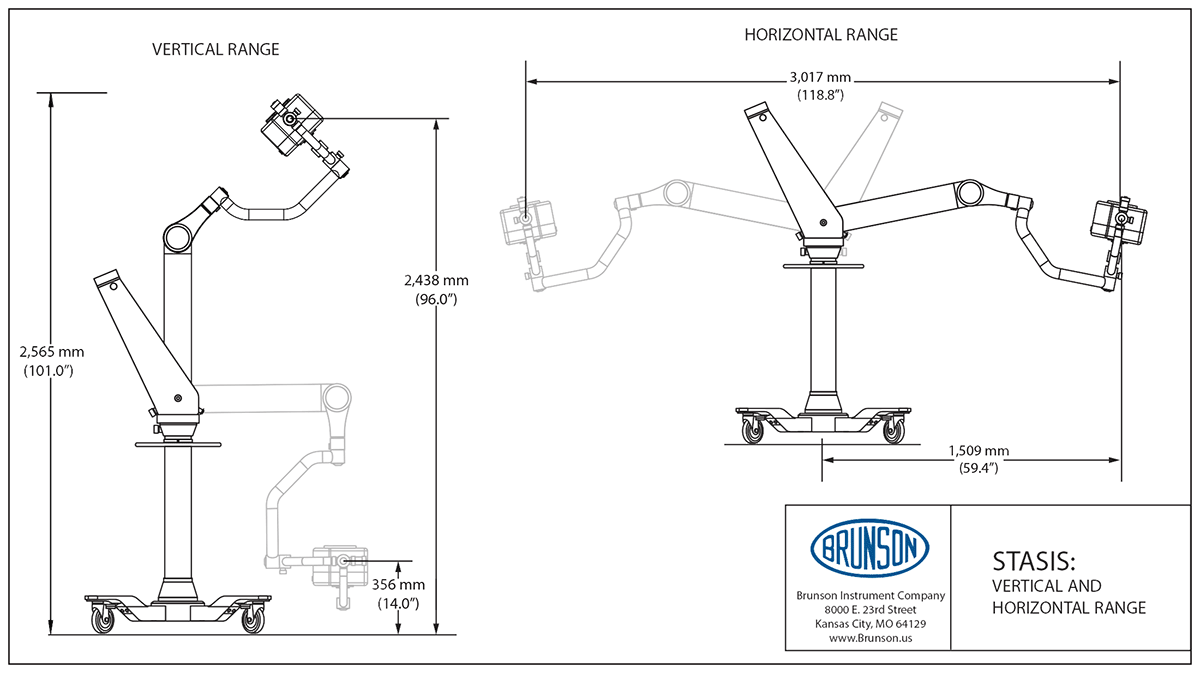 Specifications

| | |
| --- | --- |
| Hand movement (roll, pitch, yaw) | 360° each |
| Base movement (azimuth) | 360° |
| Horizontal reach | 60 in (1,500 mm) |
| Vertical reach | 60 in (1,500 mm) up, 30 in (750 mm) down; from mounting surface |
| Max. instrument weight | 35 lbs. (15.5 kg) |
| Weight, excluding base | 100 lbs. (45 kg) |
| Axes of movement | 6 rotations |