Roller Alignment

Visit the new Brunson Alignment Services website here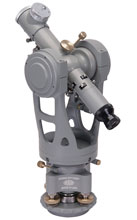 High precision, increased output, longer lasting equipment
Web handling machinery is on the critical path for manufacturing processes such as paper, converting, printing, rolled metals, thin films, coatings and other continuous lines. Faster throughput, higher quality, and more uptime are the mantras heard in these industries every day.
Often, these processes have multiple machine sections with multiple components working together. If you depend on these kinds of roll systems, you know that poorly aligned equipment leaves you vulnerable to a host of issues ranging from damaged or low quality product to excessive maintenance and equipment breakdown. The downtime associated with such interruptions can be enormous.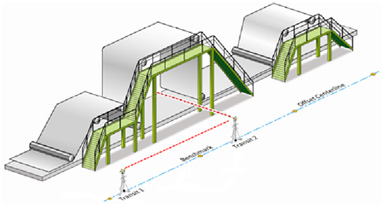 Many common problems can be traced directly to poor roll alignment, including:
Vibration
Premature roll and bearing wear
Web tracking, wrinkling and tearing
Uneven coatings
Substandard registration
The Precision of Optics to the rescue
You'll appreciate the easy set-up, simple operation and consistent performance of the Optical Alignment experience. The work moves quickly and the highly precise results bring a long list of advantages and benefits, including:
Accuracy

: Alignments of ±0.001 inch over 17 feet are possible – that's 3 times thinner than a human hair!

Time well spent

: Alignments performed with optical tooling instruments are completed up to 50% faster than other methods.

Tested tough

: Optical tooling instruments are specifically designed to provide high precision measurements in the toughest industrial environments. No wires, power, or control boxes to fail. No issues with ambient light or temperature. Just instruments that perform for decades to their original manufactured tolerances.

Simplicity

: Optical alignment principles are easy to learn and implement for all plant personnel. The technology is well proven for roll alignment applications.
Training is Available
Never worked with optical instruments? We want you to confidently and successfully use your Brunson Optical Alignment solution. That's why training and ongoing support is available for every web handling tool kit. And, if you'd like to study Optical Alignment theory in more depth, we offer week-long courses that can take place at our facility in Kansas City, MO or at your place of business.
It Pays for Itself
Customers tell us that our systems pay for themselves within months, with cost benefits continuing to grow after that. The system is simple and the results are precise. Alignments are easily managed by your own people on your schedule.
If you'd like to learn more about how optical instruments function in a real-world setting, read "A Closer Look" below and feel free to contact our experts to discuss your specific situation.
---
A Closer Look
The primary machine reference line can be defined several ways. Machine frames, rails, primary rolls, facility fiducials, or other key components are used to characterize the primary machine centerline. Given all the obstacles present throughout the machine, it is common to define an offset reference line that is parallel to the machine centerline. This allows easy access over the entire length of the machine. The reference line is documented with temporary or permanent floor targets.

Figure 1: Align to offset centerline

In figure 1, a transit is aligned to the offset reference line. This instrument sweeps a precise vertical plane that is available anywhere along the machine.


Figure 2: Turn 90°

In figure 2, a second transit turns a precise 90° angle to sweep a plane perpendicular to the offset reference line.


Figure 3: Measure scales

We can now "look" inside the machine to measure the orientation of any component. Precise scales are seated against the roll (or other component) and measured to determine any misalignment, shown figure 3. Adjustments are monitored real-time to bring the roll into proper alignment. Multiple rolls can be measured from this one set-up.


Figure 4: Scale set for level

So far, we have measured the horizontal orientation of the roll. The vertical (also called level) orientation must be controlled as well. An instrument called a precision sight level will monitor the roll level when the scales (shown above) are seated on the top (or bottom) of the roll.

Figure 4 and 5 illustrate this measurement process.

Figure 5: Precision sight level



---
Brunson has everything roll alignment teams need for optical alignment:
| | |
| --- | --- |
| 545-190 Precision Level | Model 567 V-Block |
| 76-RH190 Telescopic Transit Square | 6010 10″ Scale |
| 562-A Scale Holder | Instrument Stands |
| 563 Scale Level | 803 Invar Scale Extension Kit |