15079 Laptop Tray
SKU
15079
Estimated lead time:
21 days
Keep your computing power handy
The 15079 Laptop Tray is very handy when you're measuring with an instrument which requires connection to a computer. A rigid aluminum frame clamps onto the outer tube of your stand. It has a rubber liner to minimize abrasion on the tube. A lightweight but rigid aluminum arm holds the laptop tray at a comfortable operating height. The tray may be tilted in any direction by way of a ball-and-socket clamping mechanism (see picture below), keeping your computer close to the action. The laptop is held firmly on the tray with spring clamps on each side.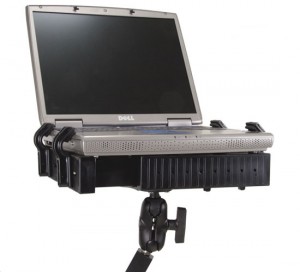 The laptop tray clamps to many of our heavy duty adjustable and fixed stands (see compatibility information below). The design of the laptop tray support keeps the computer up and out of the way of the adjustments you need to make to the stand. The back of the computer is held approximately 10" (25 cm) inches away from the stand's centerline, which leaves you with access to the stand and instrument.
Note: For best measuring results, operators should take care not to apply force to this accessory during instrument measurement cycles.
Specifications

| | |
| --- | --- |
| Finish | Black Enamel |
| Material | Aluminum, Plastic |
| Weight, Product (Approx.) lb | 13 |
| Weight, Product (Approx.) kg | 6 |