Product Description
88-6 Tilt Mounting Base
Easily control pitch and yaw
The 88-6 base accommodates all of our alignment telescopes and collimators (except for the discontinued 4030). A heavy steel plate provides support for two bronze "vees" for stable instrument support. The vees adjust from a spacing of 6¼" (15.9cm) to 9½" (24.1cm), center to center. For added security, metal clips are provided to secure the telescope to the base.
The 88-6 base has a tilting range of approximately 1¼ degrees both horizontally and vertically (pitch and yaw control). Tilt is controlled by a fine threaded, large head screw for easy adjustment. The instrument carrier (upper portion) may be rotated with respect to the bottom plate through 360 degrees and clamped in position by socket-head set screws.
The base of 88-6 has a standard 3½"-8 internal thread for attachment to any compatible optical tooling stand.
Below, all three adjustment screws are visible (azimuth and elevation angle) on the near end of the 88-6.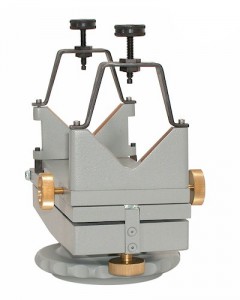 Specifications
Approx. distance from bottom of base to instrument centerline: 5.780″ (146.8mm), assuming a 2¼" diameter telescope is used
Approx. weight:
Base, 20 lbs. (9.1 kg)
Base and case, 26 lbs. (11.8 kg)
Shipping, 30 lbs. (13.6 kg)
---
3D Model Downloads

3D IGES