Product Description
1.5THP Pole Adapter
Reach higher and farther with an SMR pole adapter
The
1.5THP
 Pole Adapter is handy when you need to measure something that is either too high or too far away to reach without assistance.
Drilled and tapped with an internal 3/4"-5 acme thread, the 1.5THP attaches easily to most standard paint roller poles or detachable broom sticks. A 1.5″ SMR seats on a conical land and is held firmly in place by a magnet.
The 1.5THP has a connector which fits either of our lanyard kits. Use a lanyard kit (sold separately) to tether your SMR to the pole adapter and prevent it from falling.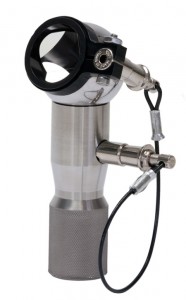 At left, the 1.5THP with a 1.5″ SMR and the 1.5LK-P lanyard kit.
Specifications
Approx. weight: 0.37 lbs. (0.17 kg)
Adapter size: 1.00″ (25.4mm) x 3.00″ (76.2mm)
Material: Stainless Steel