Product Description
1.5THMF SMR Adapter
1.5″ Adapter for THMF Floor Mount
The
1.5THMF 
adapter is designed to work with the THMF mini floor-mount base, giving you a permanent target location in the floor or wall. Following initial installation of the THMF base unit, this adapter may be installed and surveyed for its actual coordinates using a 1.5″ SMR. The adapter may be removed and reinstalled in the base, maintaining target position tolerance. Therefore you can quickly re-establish coordinate systems in the future by providing known, permanent reference points. This system may also be used without an initial survey to provide permanent coordinate system transfer points. Or, use them to monitor the movement of foundations or other features over time by checking for deviation from originally mapped coordinates.
An aggressive knurl around the circumference of the adapter assists with easy installation and removal from the THMF base. The adapter also has two blind holes which fit a 15130 spanner (purchased separately), if you need a little extra torque to remove it. The 1/4″ shank with internal 6-32 tapped hole mates securely with the base unit, positively locking the adapter in place. The 1.5″ SMR seats on a 3-point conical land and is held firmly in place by a magnet.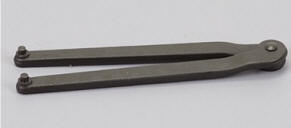 The 15130 spanner wrench (not included) allows for easy removal of the 1.5THMF adapter from the THMF base if needed.
May Be Used With
Any 1.5″ diameter SMR
THMF Floor Mount
Specifications
Adapter dia.: 1.6″ (40.6mm)
Offset: 1.1250 ±0.0005″ (±0.013mm)
Material: Stainless steel, machine finish
Hardness: HRC 42-45
Target centering tolerance: ±0.0005″