Product Description
THK-EE
Basic 0.5″ and 1.5″ English Target Holder Kit
Everything you need for those basic jobs
Our THK-EE target holder kit contains a selection of basic target holders which every tracker operator needs, regardless of experience level. The components in the kit provide the capability to measure a variety of holes, edges, corners, and surfaces for many applications in the field or laboratory. The kit contains target holders for both 0.5″ and 1.5″ SMRs. The case's foam inserts include space for additional target holders as the need arises.
All target holders with critical dimensions can be Certified and Serialized. See content listing in the table below.
 The kit components come in a foam-lined, waterproof case.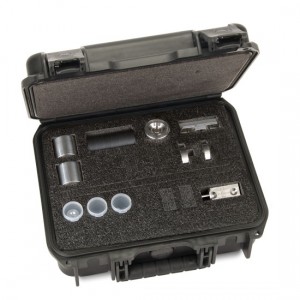 May Be Used With
Any 0.5″ SMR
Any 1.5″ SMR
Specifications
Approx weight: Case and contents, 8 lbs. (3.6 kg)
Case: Foam-lined, injection molded, waterproof