Product Description
563, 563-40 Scale Levels
Helps you hold the scale horizontal or vertical
The
563
and
563-40
levels are very handy tools which attach directly to your optical tooling scale, having two bull's eye vials mounted at right angles. This allows you to orient your scale either horizontally or vertically. The levels are sufficiently sensitive to allow you to keep any significant cosine error from creeping into your scale readings. A knurled thumbscrew tightens an angled dovetail bracket against the side of the scale, holding it firmly against the reference edge of the level. The scale levels may be placed at any convenient place along the length of the scale. The 563 fits any of our scales having a width of 1″  (
3″ to 20″
and
80mm to 500mm
scales). The 563-40 fits our
40″
 or
1000mm
scales. It is identical to the 563 except for the addition of an extra spacer to accommodate the extra width of the 40″ and 1000mm scales (see photo on left).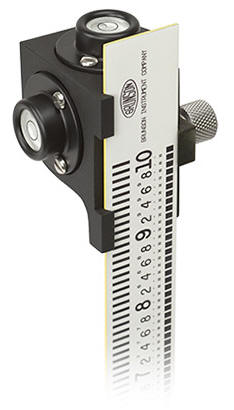 The 563 shown left attaches to any of our 3″ – 20″ or 80mm to 500mm scales using the knurled thumbscrew and retaining clips.
The 563-40 is intended for use with the wider 40″ and 1000mm scales. It differs from the 563 only in the extended width of the bracket which secures the side of the scale.
Specifications
Approx. weight:  1 lb. (0.5 kg)
Documents