Product Description
406 Series Bore Targets
Flexible System for Target Placement and Centering
Our 406 Series Bore Targets may be used to establish centerlines of large cylindrical units or bores such as extruder tubes, crankshaft bores, turbine/ generator bores, etc. The compact and flexible design accommodates a wide range of bore diameters.
Two models are available in this series: the model 406-6 accommodates a maximum bore diameter of 60″ (1.52m), while the 406-6A can handle a bore up to 150″ (3.8m) in diameter.
The unit is made for quick and easy field setup. Stability is assured with solid leg connections (rather than telescoping legs) and the use of "sleds" as feet – no more targets slipping or falling out of bores during your alignment. This feature makes the 406 Series ideal for half-bore and vertical applications. Leg design helps to minimize sag.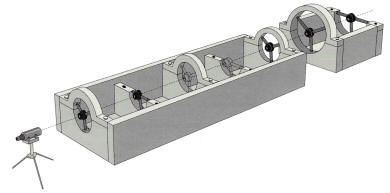 In use, the target is first positioned roughly in the bore center with adjustable feet, then the central target holder is "indicated in". This is achieved using the dial indicator, which is mounted on a sweep arm connected to a rotating central hub. The hub, in turn, contains the optical target. The central hub is adjustable so that it – and therefore the target – may be brought to dead center. This process also reveals and quantifies any out-of-round conditions in the bore.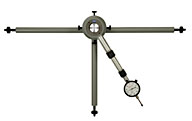 When used in half-bore configurations, the horizontal legs are situated just below the bore's centerline (photo at right).
The target holder is sized for any 2¼" diameter target. The kit includes a 795 multi-shot distance target. The legs terminate in ball feet or sleds, as desired by the user (both are included). The target holder also has unique adjustments for calibration of wire targets.
At left, the 406-6 is shown in small bore configuration. The indicator initially mounts in the target holder. After the central hub is brought to the center of the bore, the indicator is removed and replaced with the optical target.
At left below, the 406-6 bore target kit comes complete in a polyurethane case with foam inserts. Each 406 Series Bore Target Kit contains the components shown at right below (see table below for component listing).
Components included in both 406-6 and 406-6A
Qty
Description
Qty
Description
3
20″ Leg (50.8 cm)
1
Short Sweep Arm (Telescoping)
3
10″ Leg (25.4 cm)
1
Long Sweep Arm (Telescoping)
3
5″ Leg (12.7 cm)
1
Dial Indicator Mount
3
4″ Leg (10.2 cm)
1
Rotating Hub (Target Mount)
3
3″ Leg (7.6 cm)
1
Fixed Hub
3
1.5″ Leg (3.8 cm)
1
795 See-Through Target
3
Sled Foot
1
Dial Indicator
3
Ball Foot
1
Indicator Probe Extensions
3
1″ Foot Screw (2.54 cm)
1
Hardware Kit
3
2″ Foot Screw (5.1 cm)
1
Carrying Case
1
Mini Sweep Arm (Fixed)
Additional Components Included Only in 406-6A
6
20″ Leg (50.8 cm)
1
20″ Sweep Arm Extension (50.8 cm)
1
Extra Long Sweep Arm
May Be Used With
Any 2¼" diameter target
Specifications
Minimum bore diameter: 6″ (152mm)
Maximum bore diameter:
406-6: 60″ (1.52m)
406-6A: 150″ (3.8m)
Centering accuracy:
0.001″ (0.025mm) T.I.R. (total indicator runout)
Material: 
Fixed hub: Aluminum
Rotating hub:
Aluminum with steel insert and bronze bushing
Legs: Aluminum
Telescoping arms: Aluminum
Finish:
Two part gray polyurethane enamel (textured), or clear anodized, as applicable
Approx. weight: 5 lbs. (2.3 kg)
Documents