Product Description
562-VA V-Block Scale Holder Set
Hold scales against rolls and shafts
The 562-VA helps you place a scale against many cylindrical drums or rolls, and hold the scale nominally on a diameter of the roll. The 562-VA set includes two scale holders: one 562-VA-120 V-block (120°), and one 562-VA-160 V-block (160°). One side of the V-block holds our 40″ or 1000mm scales, and the other side holds all of our smaller scales (see photo below). Eyebolts allow the use of straps or tie-downs for extra security.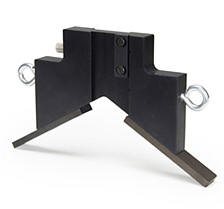 Note: The 562-VA is a set consisting of both V-blocks, but each V-block may also be purchased individually (see table below).
Model
Description
Fits
562-VA
562-VA-120 and 562-VA-160 V-block scale holders with case
2″ – 48″ Diameter Rolls
5 cm – 1.2 m
562-VA-120
120° V-block scale holder with case
2″ – 20″ diameter rolls
5 – 51 cm
562-VA-160
160° V-block scale holder with case
15″ – 48″ diameter rolls
38 cm – 1.2 m
May Be Used With
6003, 6005, 6010, 6020, and 6040 scales
6080M, 6130M, 6250M, 6500M, and 6050M
Also discontinued scales 564W-10, 564W-20, and 564W-40
Specifications
Material: Flat ground steel (shoe); aluminum (V-block body)
Finish: Black oxide (shoe); black anodize (V-block body)
Approx. weight:
Kit, 2 lbs.
Kit and case, 4 lbs
Shipping, 4 lbs.
Documents