Product Description
12410 Series Concave Tips
Tips for Brunson Invar System that fit on tooling balls
The 12410 Concave Series of tips are designed to work with the Brunson Invar System. On one end, a 3/8″-24 external thread mates to our standard Invar system tubing. The other end provides a concave mount that is made to fit on a 1/2″ tooling ball, while holding the effective length to a precisely known standard (see drawing and table below). The concave tips allow you to take measurements from tooling ball fiducials permanently mounted on fixtures, and perform "leapfrogging" measurements using a tooling ball placed temporarily between points of measurement or alignment interest. 

The 12410 Concave tip does not come in a metric equivalent, but is available in two different effective lengths in English units (see table and drawing below).
Order desired item by part number from the table below. You can read more about other Invar System Components on this website.
| | |
| --- | --- |
| Model | Effective Length* |
| 12410-G2 | 1″ ±0.0003″ |
| 12410-G3 | 2″ ±0.0003″ |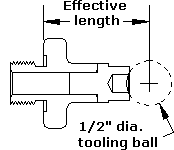 *Effective Length is the distance from the bottom interface surface of the scale holder, which mates with the end of the Invar Tubing, to the center of a 1/2″ tooling ball when cradling the ball with the tip's concave surface.
Specifications
Material: Stainless steel
Threads: 3/8″-24, fits our Invar System
Documents