Product Description
5175 Extension Arm
Reconfigures a 5170 for use with optical squares
The
5175
Extension Arm is an accessory for the
5170
Alignment Telescope Base (see picture below). The 5170 is normally configured for supporting and adjusting an alignment telescope or collimator when used in conjunction with our spherical mounting system. However, when the alignment telescope is outfitted with a 2410 or 2412 optical square (both have been discontinued), the combined instrument length is increased and no longer fits the 5170. Therefore, the 5175 Extension Arm is required to extend the yoke of the 5170 so that it will support an alignment telescope in combination with the optical square. Re-configuring the 5170 with the 5175 is quick and easy, requiring only the proper allen keys.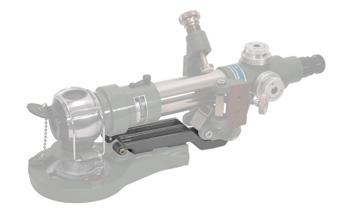 You can easily remove the yoke from the base of the
5170
 and insert the
5175
extension arm between then, allowing the
5170
 to accommodate a
2022
 with an optical square.
Specifications
Approx. weight: 3 lbs (1.4 kg)
May Be Used With
5170 Alignment Telescope Base
Documents